Last year, I made a pop-up book for my half of the TARDIS Day gift swap. This year, I wanted to do something different... But I really couldn't think of anything. So I decided to make another pop up book! Hooray!

I found out my partner's favourite episodes and characters, and decided which stories to do. I settled on The Girl in the Fireplace, Blink, and the Doctor Dances. I also found a couple of neat effects that I wanted to do, namely this moire pattern thing. How perfect is that??

So following pretty much the same procedure that I did last time, I made mockups of it, took them apart, scanned and coloured them, BRAVED THE PERILS OF PRINTING, and then put it together.

The Mockup.






Things that I learned that I will do next time: when I paste everything on paper, I will paste them on a colour of paper that isn't white. Because it was so hard to see the edges. I will also draw on everywhere that things join with a *sharpie*, or something that will really, really show up. That will make the assembling about fourteen times easier.

Where I worked...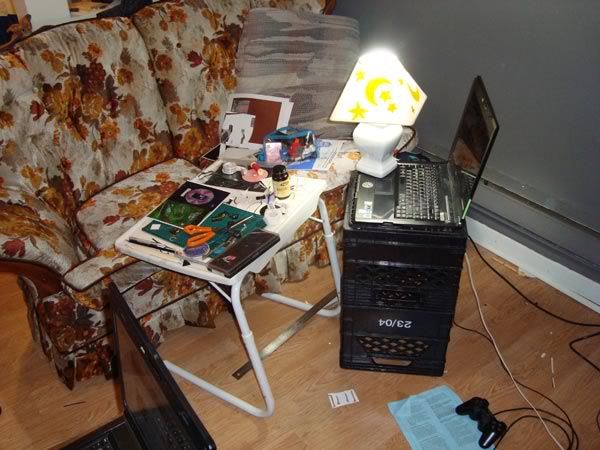 I would have loved a desk or something... I wound up putting most of this together on the floor.

Speaking of putting it together: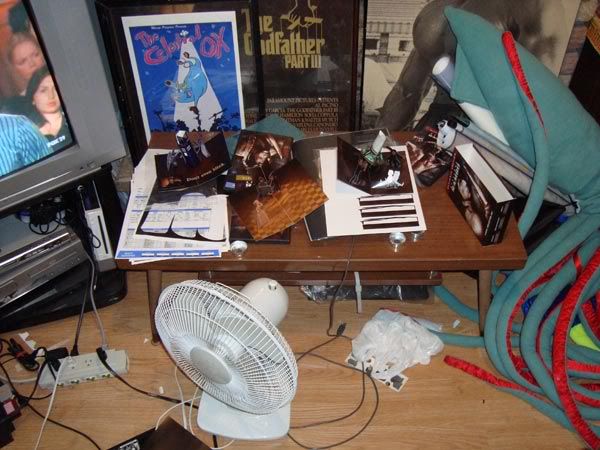 See how much I care? They were just carefully put there. This is also a time capsule of my life right now. Judge Judy on TV, a bit of a mess, a plush squid, and more of a mess. Heh.

And now, the finished product!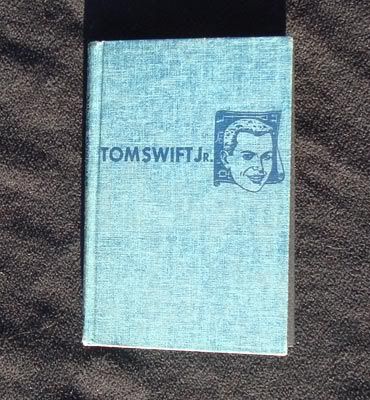 I should mention that I love Tom Swift, it is one of the first books that my father ever read to us. This particular one is the first story in the second series, where Tom makes his Flying Lab, which is then used in the rest of the series. It's like a TARDIS. Eh? EHHH? I've also never seen a *blue* Tom Swift book.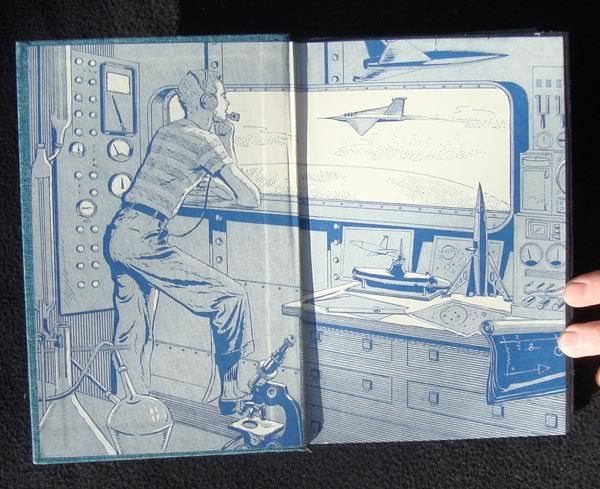 Way too cool to get rid of.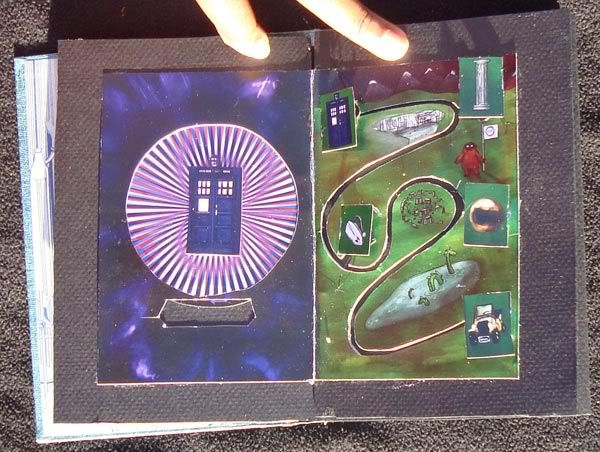 The page on the left has a mechanism that has a cool effect. The page on the right has a little Doctor and Donna that you can pull along a track, with various enemies that come out of the little doors. I tried to give each enemy something that represents them to hide behind.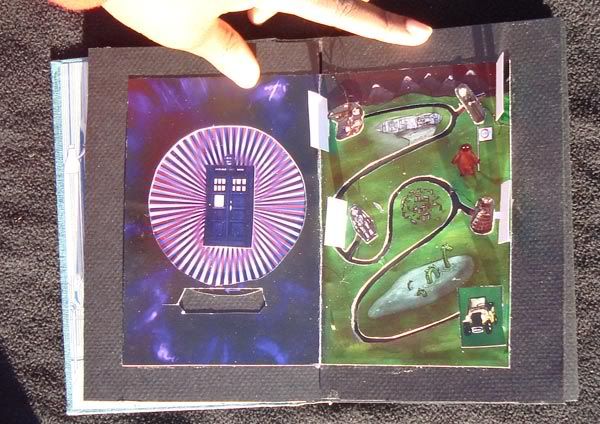 And here's what's behind the little doors! The Master (Delgado!), a cyberman, and a Dalek. There's also a Yeti and the Loch Ness Monster. And a quarry. XD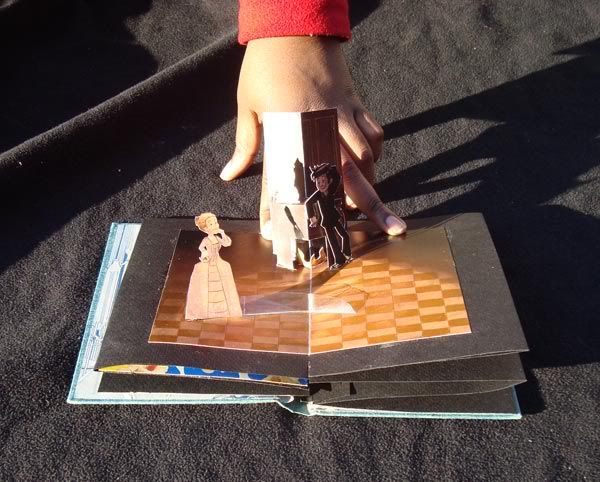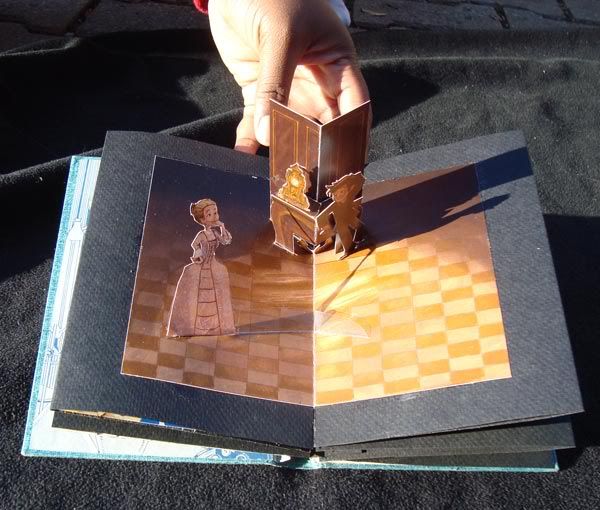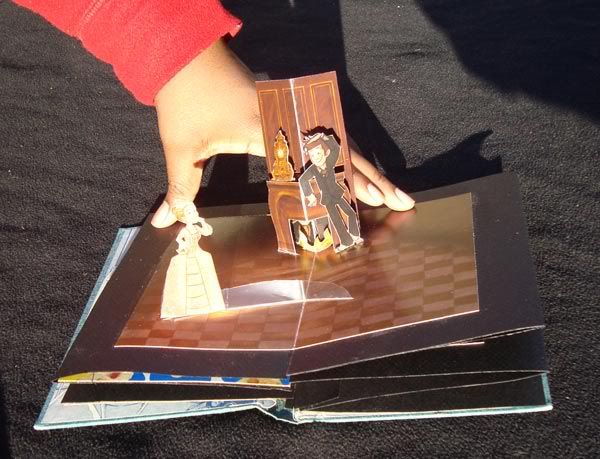 From the Girl in the Fireplace. Oh Doctor, you man you. Inside the fireplace, you can see Rose and Mickey (in the art, it printed really dark so it's hard to see Mickey in the pictures) as well as the horse. I want to call him Arthur...?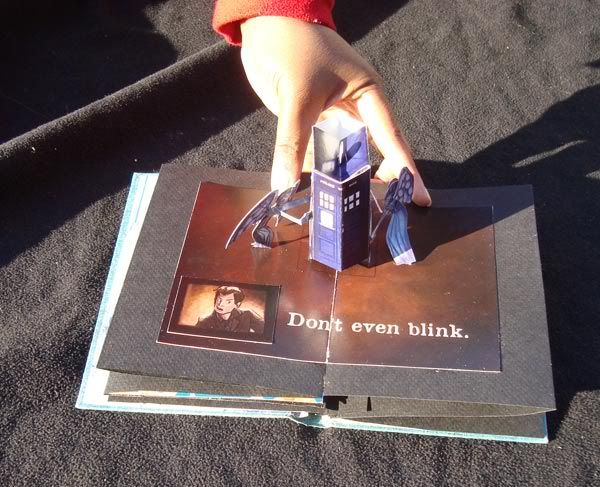 So cool, right? But wait! There's more!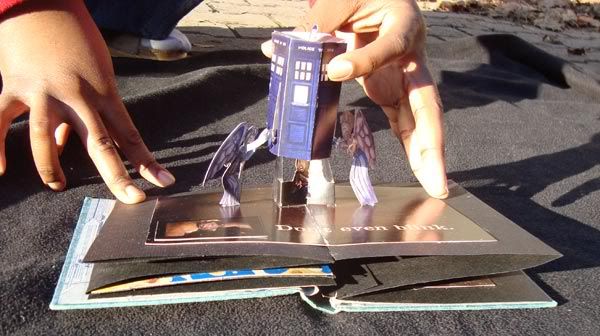 It's Sally Sparrow and Larry! Hiding inside.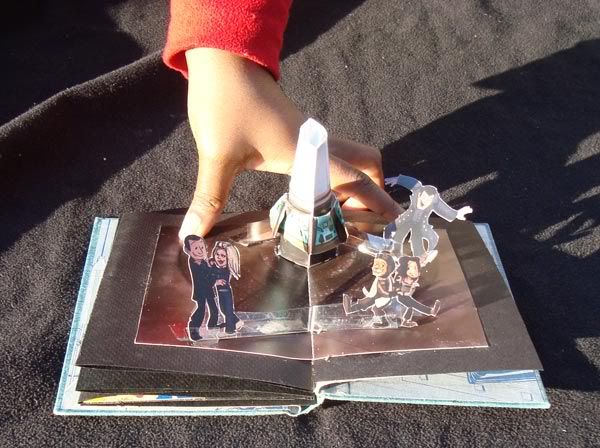 Okay, not really the Doctor Dances, because there's some people who weren't in that series, but Brannigan and Valerie are awesome. Jack is also wearing more of a Torchwood jacket than a first series Doctor Who jacket.

A little movie that I did of it!





This picture I will put under a cut if I need to... But I think it's just too cool.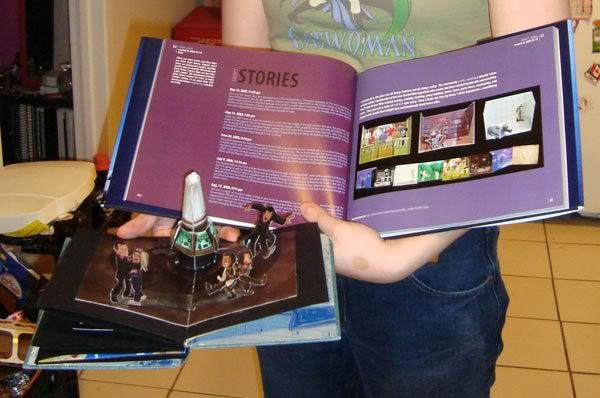 My new pop up book with my other one, which is one of the 100 best posts on LJ evers.

And that's that!!