Time for another post on how I made something that I think is neat! This particular thing is a leather bag that I hand tooled, dyed, and hand sewed.

Teaser: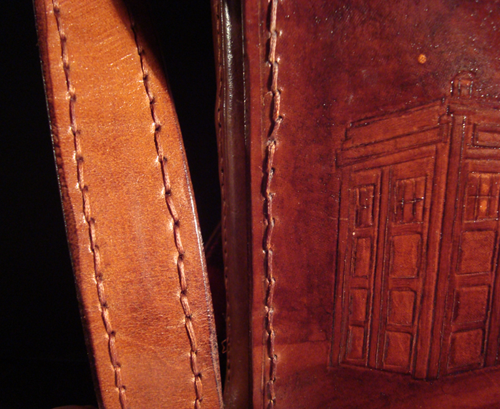 Table of Contents.

1 - Table of Contents, and why in the first place.
2 - Research.
3 - Designing.
4 - Tooling.
5 - Other Leatherworking Steps.
6 - Dyeing.
7 - Assembling.
8 - Sewing a lining.

And last but not least,

9 - Finished pictures!



Why would I ever choose such a complicated leather project? Considering that my sum total of leather experience is burning a design onto a belt, in retrospect it was a little silly.

My father really enjoys leather work, and I wanted to do a project that we could work on together. I also had a co-worker who had a really sweet square leather messenger type bag that her father had used as a school boy in Japan. There were also a lot of people around who had bags of a style similar to what I wanted. And the closest I could find out as to where they were getting them was 'Kensington Market'. That place is huge!

I have never really had a purse, instead I use a backpack. Which is a bit of a pain, because my backpack is a laptop backpack, and fairly large. When you're in a little store and trying to squeeze past someone in the aisle, it makes me feel ridiculous. And also about fourteen.

So what if I combined these two things? Make an awesome square leather bag that can serve as my purse? And also carry my sketchbook? And be something that my Dad and I could work on, together?

So away I went! Dad found a sale at Tandy Leather, and if you're in the Edmonton area, I'd have to recommend the store there. I later had to go to the one in Scarborough, and it is nowhere near as large, or as well set up. In Edmonton one, you had examples of what each dye would look like, but nothing like that in Scarborough!

I can't remember the weight of the leather that I bought, but it was fairly heavy. I didn't want something that was going to tear, after all the work that I was going to be putting into it.

Also a huge thank you to my Mother, who sent me all the earlier pictures. For me, she learned how to zip something, and then sat there while those huge files attached to her email and then send them. Thanks mom! It means a lot!!