Table of Contents.

1 - Table of Contents, and why in the first place.
2 - Research.
3 - Designing.
4 - Tooling.
5 - Other Leatherworking Steps.
6 - Dyeing.
7 - Assembling.
8 - Sewing a lining.
9 - Finished pictures!

Designing:

The Pattern:

With some sewing know-how, I figured I could design a simple shape like a messenger back. My pattern originally went something like this: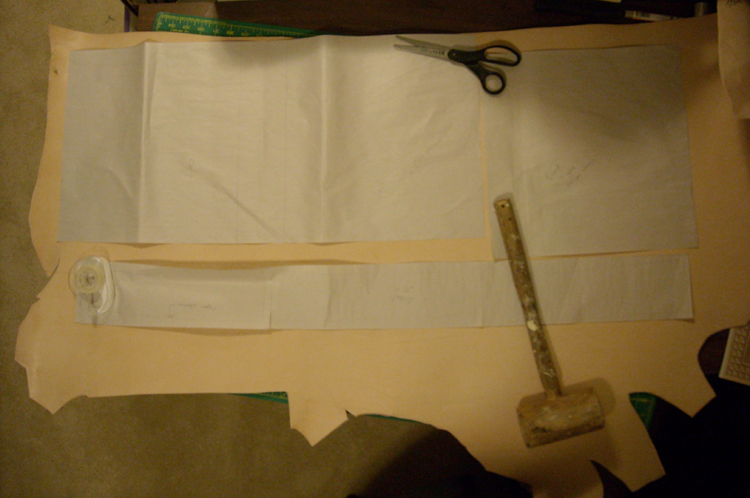 The size of the leather forced me to have three pieces to make the body, a front piece, a gusset, and a back piece that included the width of the gusset so it would fold over. To make the strap I decided to just buy a belt blank. That way I didn't have to worry about having a piece of leather long enough for the strap, and I could buy a thicker piece of leather that hopefully won't stretch too much.

As I was assembling the bag later, I realised that I had twice as much seam allowance as I needed! Since I wouldn't be folding anything over, I didn't need any seam allowance on the gusset piece. It would actually make my 3 inch wide bag 4 inches wide, and I didn't have the space to do that on the flap piece! It would have fallen an inch too short on the front. So I trimmed off the excess allowance, and there we had it.

If I had been thinking clearly, I would have also made it so that the flaps that you fold over and sew down were on the *inside* of the seam, so the straight edge of the gusset piece is what you saw, instead of the flaps.

I say it's a design decision!!

The Tooling Design:

I didn't want something too... much, I wanted something a little bit subtle. So I decided that I would make a square design in photoshop, which I could then print off and put on my leather. I came up with this: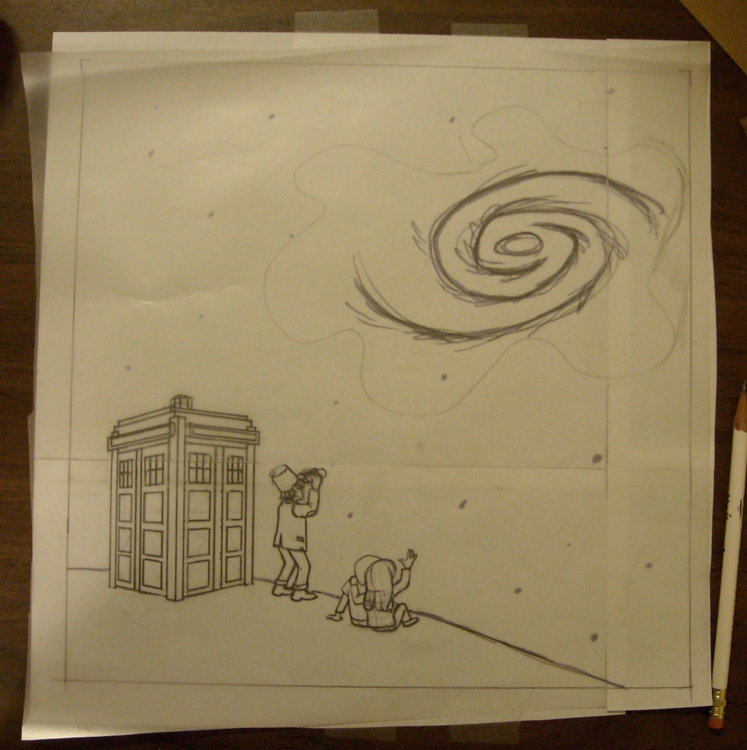 (You can see the tracing film in this shot, I can't find the original psd that I drew. Drat!)

This design features the TARDIS, the Eleventh Doctor (plus fez!) with Amy and Rory looking at a space... Thingy. To transfer it over, I printed it off in pieces on normal computer paper, assembled it, and then traced it onto some tracing paper.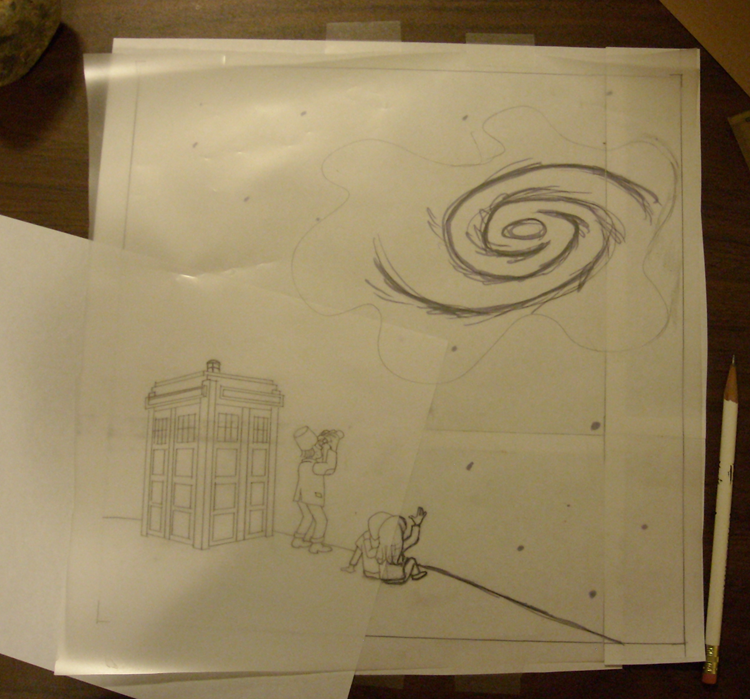 The next step was to practise!