Table of Contents.

1 - Table of Contents, and why in the first place.
2 - Research.
3 - Designing.
4 - Tooling.
5 - Other Leatherworking Steps.
6 - Dyeing.
7 - Assembling.
8 - Sewing a lining.
9 - Finished pictures!

Sewing.

Originally, I really wanted a shiny blue lining. And then my Mom said "Why don't you use this? It's really nice!"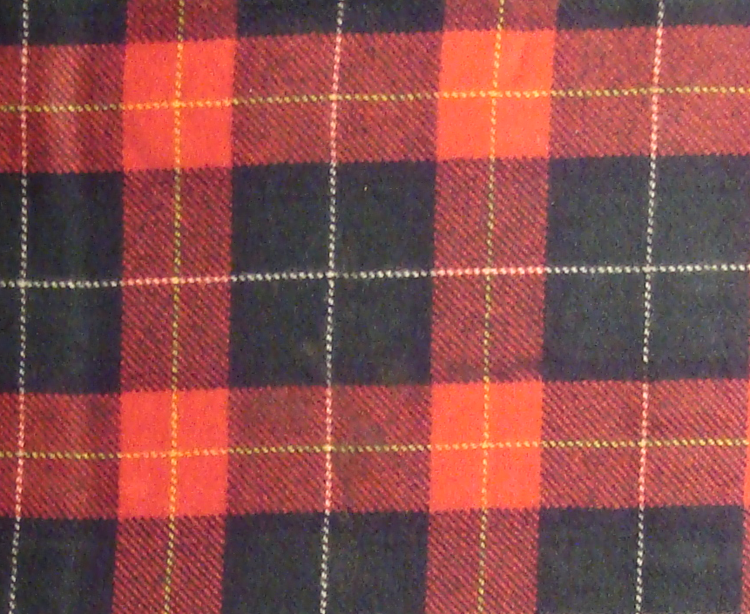 And after coming back to the bag after half a year, I found that I couldn't imagine it any other way but with that tartan inside. My Mom thought it was the Manitoba tartan, but I think that it might actually be some of the MacNaughton tartan, which is the clan that my great-grandfather belonged to. Which makes me wonder just what it is I cut up! Oh dear oh dear...

Moving past that...

The actual lining was pretty simple. I cut out a piece that was the same size as the front, plus two inches on each side and the bottom, and a piece that was the same size as the back, plus two inches on each side and the bottom. Then I did a box seam to make it sit flat. I think I overestimated how much seam allowance I was going to need, because it's actually a little bit too long for the bag.

After I sewed this together, I folded over the edges on the flap part so they would be neat, when it was all sewn together.

Then I made individual pouches for each thing I was going to need. These include the obvious wallet, keys, and cell phone, to my camera, and end with my DS and a spot for a compass. Unfortunately they are a little bit tight in there, so if I want to grab anything it's a bit of a struggle to open up the flap, but overall I'm happy with how it turned out.

I was careful to match the pieces that I cut out, so that when they folded over, the tartan lines would match up. LIKE YOU CAN SEE IT ANYWAY, right?? I also tried out a couple of different arrangements of the pouches, based on how they matched up to the stripes below. Again, like you'll ever see that!!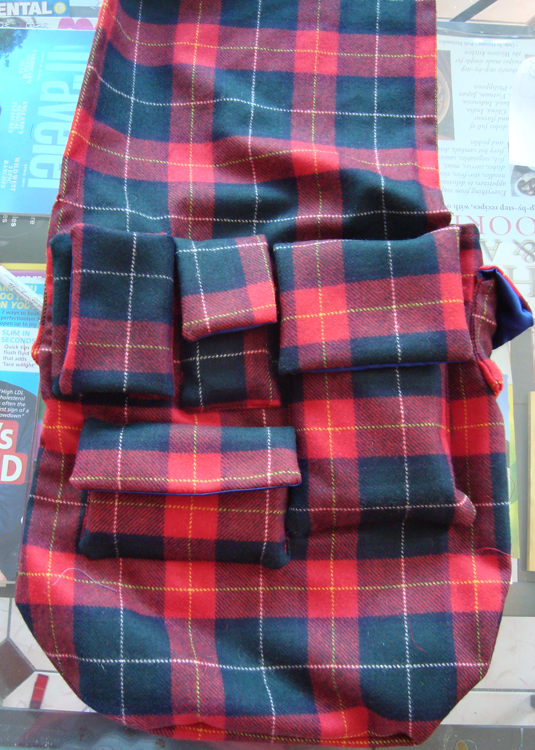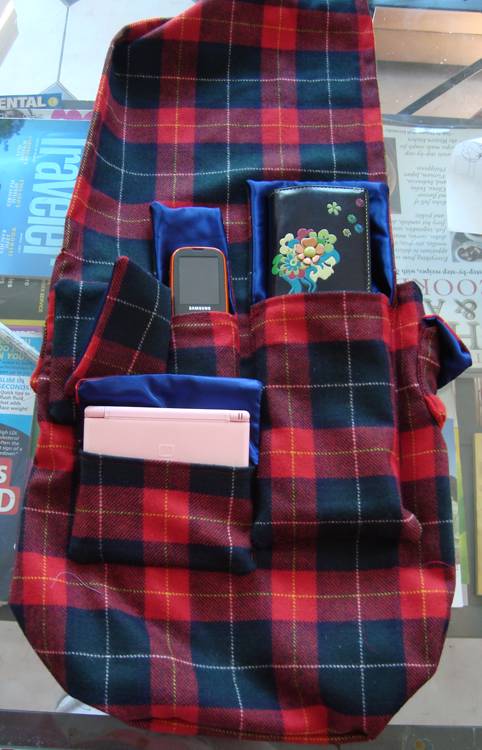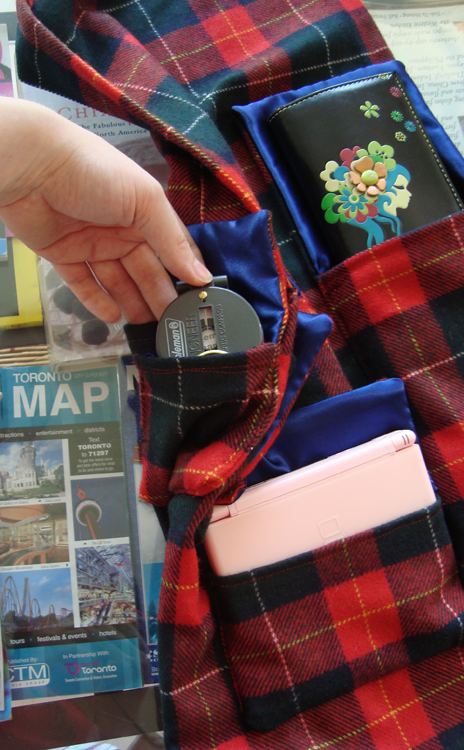 Then I glued the flap part down to the leather, using some barges cement which This to That told me was best.

Next time I will be buying TWO tubes, because I also used it on the strap, and it didn't stretch as far as I wanted it to on the flap.

I also have a magnetic snap to seal it. I was really, really concerned about this. It was IMPOSSIBLE to take the two pieces apart, and I was very worried that it would be too strong for a simple bag. I was also worried that the piece that went on the flap would just tear through my material, because I obviously wasn't poking it through the leather smack into the middle of my design. What I did was get a scrap piece of leather, cut some slits in that. I figured out where the snap was going to have to go, and cut some slits in the material. I put a lot of glue on the material, so that it *hopefully* won't fray, and I put the magnet through the lining, and the leather. Then I glued it down.

It... Works pretty well. I'm getting better at snapping it shut, but it does need to be just so to work right.

I also made a lining for my strap, because I wanted it to be pretty. I just sewed a tube, and then painstakingly turned it right side out. After, I glued it solidly to the leather, and saddle stitched up and down both sides.

The reason I glued both things instead of just stitching them was because I've heard that a) two heads are better than one, and b) I wanted it attached over the whole area, not just the edges. I didn't want it to sag.